FORD OF GREENFIELD DRIVE ONE
---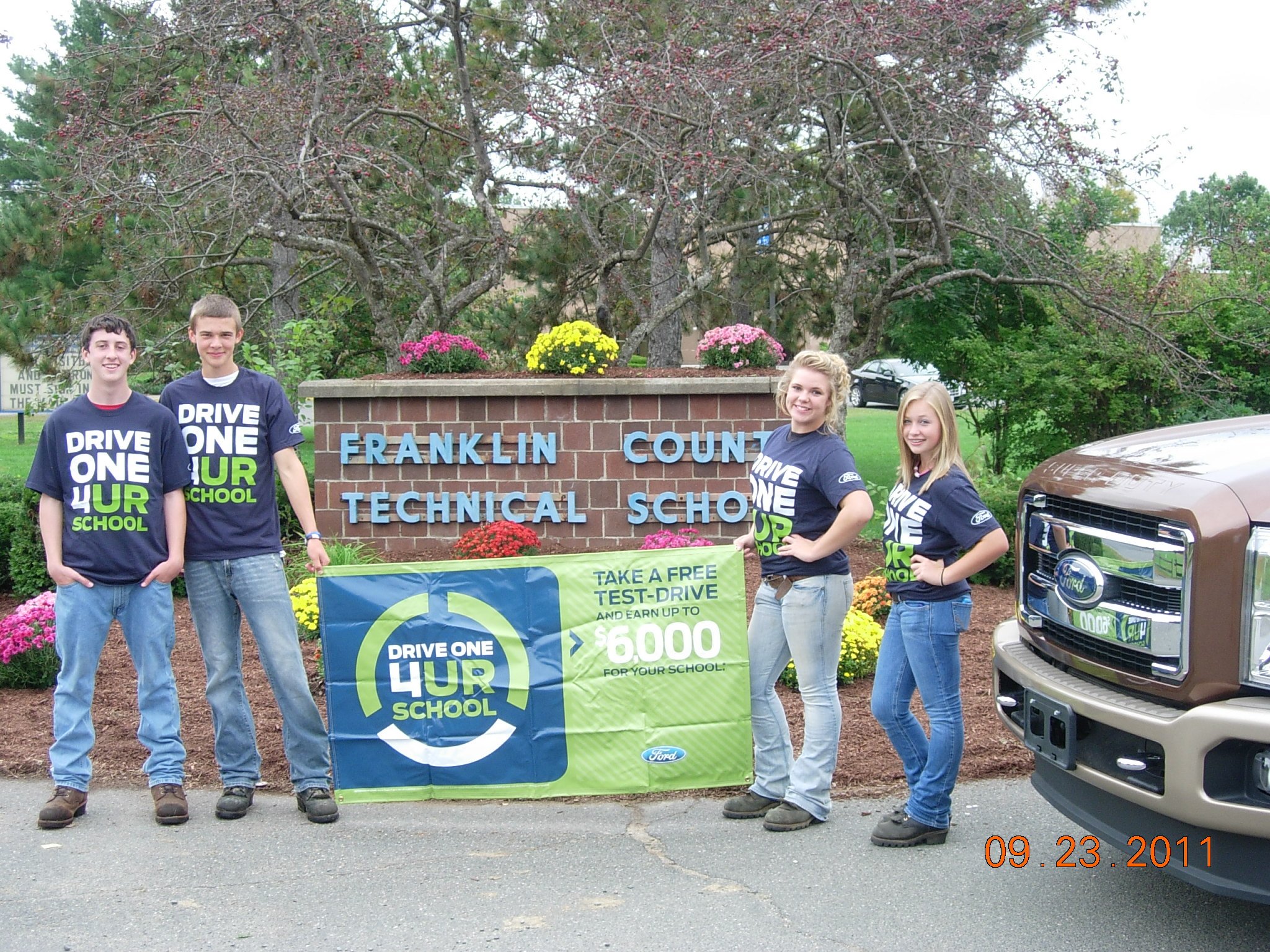 TAKE THE WHEEL WITH FORD: FORD OF GREENFIELD AND THE FRANKLIN COUNTY TECH SCHOOL HAVE TEAMED UP TO RAISE AS MUCH AS $8,000 FOR THE SCHOOL.
Exciting test-drive fundraising event will generate funds for Class of 2013 & Class of 2014-
TURNERS FALLS, MA?Across the United States, there are extracurricular activities that are being cut annually due to growing budgetary constraints and lack of funding. Ford of Greenfield wants to keep these important opportunities available for our local students at the Franklin County Technical High School.
Ford of Greenfield is bringing Ford Motor Company's Drive One 4 UR School program to Franklin County in an effort to raise up to $8,000 for the Franklin County Technical High School. For every person who takes the wheel and test-drives a new Ford vehicle at the Franklin County Technical High School on Saturday, October 8, Ford of Greenfield and Ford Motor Company will donate $20 to the Franklin County Technical High School. Drive One 4 UR School participants will also have an opportunity to earn an additional $10 for the school by taking a second test-drive in a 2012 Focus. This free event is for fundraising purposes only and no sales are intended. Funds raised will support graduation activities for the Class of 2013 and 2014. "Our dealership enjoys participating in Drive One events for our local schools," states Chris Pinardi, Service Director at Ford of Greenfield. "We know the pressure our local families and schools are under today and we understand that any dollars raised can go a long way to helping students participate in school sponsored activities."
"In this tough economy, the expense of graduation can be tough on families," states Barbara Williams, Advisor for the Class of 2013. "We'll use the money raised to ensure all members of the Class of 2013 and 2014 can cover the costs of graduation related expenses and all students can enjoy their senior class trip. This is a terrific opportunity and we are very grateful to Chris and his team at Ford of Greenfield."
The event, which will be held from 9 AM to 3 PM, will feature many vehicles from Ford's impressive line-up. "We'll have a number of vehicles from Ford's line-up including the all-new Focus, Fiesta, Edge, F150n and Fusion. I'm confident people will be pleased with what Ford has to offer when they get behind the wheel of any of these cars and trucks," states Pinardi.
Since the start of Ford's Drive One 4 UR School program in 2007, more than $7 million in donations have been generated for schools nationwide. To participate, please visit Franklin County Technical High School located at 82 Industrial Blvd between 9 AM and 3 PM on October 8. No purchases necessary.
Participants must be 18 or older and have a valid driver's license. There is a limit of one test-drive per household. All test-drive will last approximately 7-10 minutes. For additional information, please contact Chris Pinardi at 888-211-5409.
About Ford Motor Company
Ford Motor Company, a global automotive industry leader based in Dearborn, Mich., manufactures or distributes automobiles across six continents. With about 166,000 employees and about 70 plants worldwide, the company's automotive brands include Ford and Lincoln. The company provides financial services through Ford Motor Credit Company. For more information regarding Ford's products, please visit www.fordofgreenfield.com.